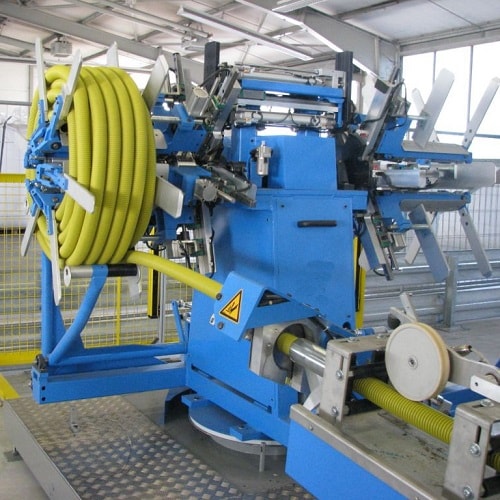 Following are some inquiry for automatic coiler:
It was a big pleasure for me to call you this morning about above automatic coiler machine matter.
I am Mr. KIM, who is staying in HK to help some of my Korean company who is factory
of CD pipe and FEP and COD pipe.
So I received information and inquiry from above Korean my company named, Hyundai Industry Co., Ltd
 so I found your company name and information through on line.
How about your roughly price is above machine,
Automatic Double Reel Coiler for winding & scraping ( 6 times )?
Currently we are shrink wrapping by hand and takes 2 guys up to ¼ hour per harrow.
We would dispatch about 15 harrows per week for Australia.(and hope to increase this)
please note – they are quite lumpy and there are spikes, sharp pieces, etc.
Sizes of our smaller range are 1.4m, 1.75m, 2.1m, 2.4m long – these roll up to approx. 300 x 150mm. (and weigh 65 -140 kg)
Larger range comes in 2.5m, 3.0m, 3.5m and 4m long. And roll up to 500mm x 250mm. (and weigh 117- 450kg)
And also see the wooden crates for the weed wipers which are approx 600mm square it would be good to wrap these as well.
The main object is to give strength, protect and to make it easy to pick up with a forklift.
We are open to your suggestions but think a semi-automatic style would be more suited for us so can control thickness eg on ends etc?